Cane Wrapped Rocks
with Christine Smith

Sep 20, 2018 at 6:30 pm

, runs for 1 week

6 miles away
Wrapping rocks in a quick, fun way to create a nature-based object of beauty. The technique is based on ancient Japanese basket weaving. We have found it addicting to choose a smooth ocean rock ...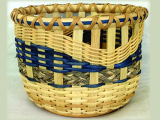 Drakes Island Basket
with Christine Smith

Oct 11, 2018 at 6:30 pm

, runs for 2 weeks

6 miles away
...colors of this basket will bring to mind the beauty of the ocean and beach. It is a fairly quick
weave
which starts with a wooden base. It has a variety of weaving patterns and braided seagrass for in...