Filter by Category
Registration Unavailable
Oil Painting for Beginners 9/13
with Susan Mesick

Sep 13, 2017 at 9:30 am
, runs for 6 weeks
We're thrilled to be adding to our
fine
arts
offerings with this beginning oil painting class! We'll cover the use of materials specific to oil painting, including paints, mediums, surfaces, clean up ...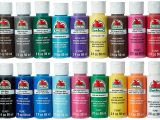 Beginner & Intermediate Acrylic Painting
with Sheila Clough

Oct 16, 2017 at 9 am
, runs for 4 weeks
...ner and are unsure if you will continue painting after this class, student grade paints should be
fine
. If you are an intermediate student attempting to get to the next level, it might be time t...
Course will run