Filter by Category
Personal Finance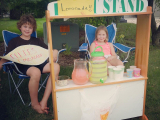 "Solo"preneur: Want to Start Your Own Company?
with Jill Braceland

Next available session starts Dec 5, 2023 at 6 pm

, runs for 1 week
Thinking about starting your own business?  We'll explore these foundational topics: Who are you? What are you offering? Who are your customers… and competition? What are the cost estimates? How will you promote? Leave with resources and an action plan to get started!
There is a $5 materials fee paid to the instructor
Tips To Improve Credit Score
with Atlantic FCU Employees

Next session starts Dec 6, 2023 at 6 pm

, runs for 1 week
1 additional session on May 7, 2024
Experienced financial professionals will offer you valuable tips to help you understand your Credit Score, including but not limited to: How do you get a score, what makes up your score, how to improve your score, and what hurts your score. This will be an interactive class where you'll be able to ask any questions you may have surrounding credit.
Estate Planning-Prepare for the Uncertainties of Life Revocable & Irrevocable Trusts-Are They Right For You?
with Kathryn Bedell Esq

Next available session starts Apr 3, 2024 at 6:30 pm

, runs for 1 week
This class will begin with an overview of basic estate planning, including Wills, Powers of Attorney, Health Care Directives, etc. The class will then delve into, learning how revocable trusts can help avoid probate and protect your privacy, and how irrevocable trusts can protect your assets from nursing home or Maine Care (Medicaid) liens. Discussion will include other strategies to safeguard assets from life events such as business failure or divorce of adult children. Kathryn Bedell is a lawyer in York, Maine and has been practicing for 31 years. Her practice focuses on estate planning, asset preservation, and probate matters.