Filter by Category
Personal Finance
Estate Planning-Prepare for the Uncertainties of Life Revocable & Irrevocable Trusts-Are They Right For You?
with Kathryn Bedell Esq

Next available session starts Oct 18, 2022 at 6:30 pm

, runs for 1 week
Overview of basic estate planning, including Wills, Powers of Attourney, Health Care Directives, etc. Then we will delve into learning how revocable trusts can help avoid probate and protect your privacy, and how irrevocable trusts can protect your assets from nursing home or Maine Care (Medicaid) liens. Discussion will include other strategies to safeguard assets from life events such as business failure or divorce of adult children. Kathryn Bedell is a law partner at Ballou & Bedell in York and has been practicing for 30 years. Her practice focuses on estate planning, asset preservation, and probate matters.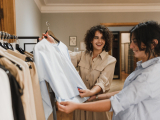 Become a Mystery Shopper!
with Sandra Thompson

Next available session starts Nov 16, 2022 at 6:30 pm

, runs for 1 week
Do you enjoy shopping, eating out, and exploring new places?  Are you interested in making money while patronizing local establishments?  Become a Mystery Shopper and get paid for shopping in your spare time!!  With as little as a few hours a month, you can earn money by shopping everything from fine dining and movie theaters, to fast food restaurants, gas stations, retail stores, and more.  This course will arm you with the basics as a Mystery Shopper, including how to find reputable agencies and manage submissions, as well as provide you with a variety of trips and tricks to help you become a successful (and lucrative) Mystery Shopper.
STF22